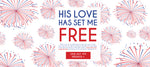 "The Heart Spangled Banner"
The Gospel to the tune of The Star Spangled Banner
Inspired by Romans 8

O say can you see
By His blood shed for me?
Sin and death will not reign,
For His victory remains.
By His stripes we are healed,
Through His sacrificed life.
He died on Calvary—
Dead to sin and so are we.
We cry Abba Father.
We're the children of God.
Joint-heirs with our Lord—
By His Spirit we're one.
Oh How I will declare
That His love has set me free!
Oh sweet glorious liberty
The secret of Christ in me.
Melody by John Stafford Smith, 1780 •
Lyrics ©Ginnie Johnson with Anna Terry 
recorded 15 years ago by Ginnie's girls:
Elizabeth, Sarah, and Caroline!  
Dear King's Daughters,

Years ago, after studying Romans 8 for months, Ginnie wrote "The Heart Spangled Banner." Her three daughters, Elizabeth, Sarah, and Caroline, recorded the song and we are still enjoying it today as we celebrate our glorious freedom in Christ. Enjoy our annual July 4th "regal reminder"!

"Therefore, there is now no condemnation for those who are in Christ Jesus, because through Christ Jesus the law of the Spirit who gives life has set you free from the law of sin and death." Romans 8:1

1. There is no condemnation for you in Christ.
2. You live after the Spirit not the flesh.
3. You have the mind of Christ which is life and peace.
4. You contain the very life of Jesus and the very SAME POWER that raised Him from the dead.
5. You have been freed from fear and given a spirit of adoption.
6. You are adopted and your Spirit man cries Abba Father.
7. You are an HEIR, heirs of God and joint heirs with Jesus.
8. You are created  to walk in glorious liberty  and THE WORLD IS WAITING for the manifestation of CHRIST through You on this earth!

What glorious liberty we have in Jesus!

Enjoy a wonderful July 4th!
Ginnie Johnson & Sarah Johnson